#27. During 2006, it cost approximately 5.7 cents per note to produce 8.2 billion U.S. paper currency notes.


How to Stand Out to Colleges
Competition for a spot in a top college or university can be fierce, even for students with top grades. So, how can you stand out from the crowd? Here are some smart strategies for gaining the edge on your peers.
Take classes that challenge you. If you limit yourself to basic-level classes, colleges won't be sure that you can handle college-level courses. Taking advanced placement or honors classes shows you're willing to work hard and rise to challenges. And when you take a leading role in class discussions, you'll strengthen your critical thinking skills and develop your ability to analyze information and solve problems.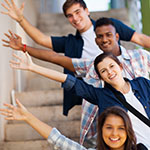 Participate in a club or activity. Joining a club — at school or in the community — provides lessons in teamwork and communication. Depending on the activity, it can also provide real-life experiences and enhance your knowledge of a particular subject.
Join a sport. Colleges appreciate students who challenge themselves academically, but also have a specialty. Even if you're not very athletic, being on a team shows school spirit and a willingness to put yourself out there. Super clumsy? Help out behind the scenes — hauling equipment, passing out water or making posters.
Run for student government. Get involved in your school by helping determine policies and by supporting your fellow students. You can make a difference!
Get an internship. Finding and working at an internship demonstrates initiative and shows colleges that you're making good use of your free time after school and on the weekends. You'll also learn a lot about something that interests you.
Apply yourself to creating a standout application. Present your best, authentic self when you apply to a college. In addition to listing your grades and extra-curricular activities, make sure your application highlights your area of interest. Write an essay about something meaningful to you in a compelling way that's beyond what you think the college is expecting. And remember: colleges want you to want them. So, tailor your essays to each school — find a reason, like a particular professor you want to study with or a specific course you want to take, that shows the college that you're really interested in attending.